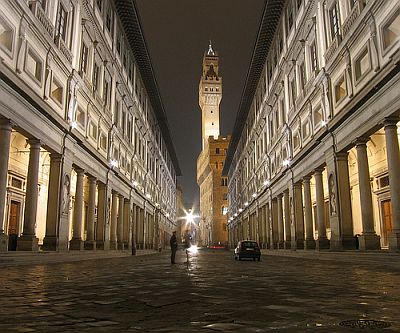 Housed in the Palazzo degli Uffizi in Florence, Italy; the
Uffizi gallery
is one of the most famous art galleries in the World. It contains one of the biggest collections of Renaissance art and some of the most iconic artworks from
Botticelli, Caravaggio, Da Vinci
and
Rembrandt
, among others.
When
booking your flights
,
Florence apartment
and hire car, also consider booking your tickets for attractions such as the
Uffizi Gallery
. It is reported that in high season visitors can spend up to five hours queuing for entry to the gallery. Tickets can be booked online directly from the official Uffizi gallery website and will allow you more time to enjoy the abundance of other tempting attractions in
Florence city centre
.
Completed in 1581, after 21 years of construction, the
Uffizi Gallery
was designed by
Giorgio Vasari
as office buildings for the Florentine Magistrates,
Uffizi
means office in Italian. The design of the building is considered highly influential by architecture historians as the long internal courtyard that that looks towards the Arno River through a Doric Screen is considered to be the first uniform streetscape in
Europe
. The accentuated perspective and unbroken cornicing create the linear quality that led to this observation.
The
Uffizi Gallery
possesses a monumental collection of artworks that are distributed among some 45 exhibition rooms, meaning that it is advised to set aside at least 3 hours of your day to appreciate all of the vast collection and leave time to visit any of the other nearby museums or galleries.
It is also recommended to take one of the audio tours that are available, as this will give you historical insight and make your viewing experience a lot more worthwhile.
Ticket
prices begin at €9.95 and visitors simply visit the official Uffizi website where they enter the date, time and number of visitors that they wish to admit and the
ticket order can be made quickly and easily online
using a credit card. The price includes a small booking fee but it is definitely worth paying to avoid the queue in the often stifling, Florence summer heat.
European citizens between the ages of 18 and 25 and teachers are entitled to a reduced rate and those under 18 and over 65 are entitled to free entrance, although children under 12 years old must be accompanied by an adult.
The
Uffizi Gallery is located
at the
Piazzale degli Uffizi
in central Florence.